Four reasons why all corporates should consider renewable energy
Up until recently, renewable energy has been a hard sell for the large commercial and industrial sector. However, this has radically changed and we are now seeing a record appetite for corporate power purchase agreements (PPAs). Here are four economic reasons why every company in Australia should be seriously considering renewable energy right now.
1. Renewable energy provides a hedge against price movements in energy markets
Investment in any form of generation, whether it be behind the meter, or an offsite PPA, provides a hedge against electricity price movements.
The ongoing energy crisis in Australia has produced extraordinary volatility in both spot and forward markets. The average spot price from January to May 2017 has more than doubled compared to the same period in 2015 and 16, and even compared to 2014, which had a carbon tax of $24.15/tonne (see Figure 1).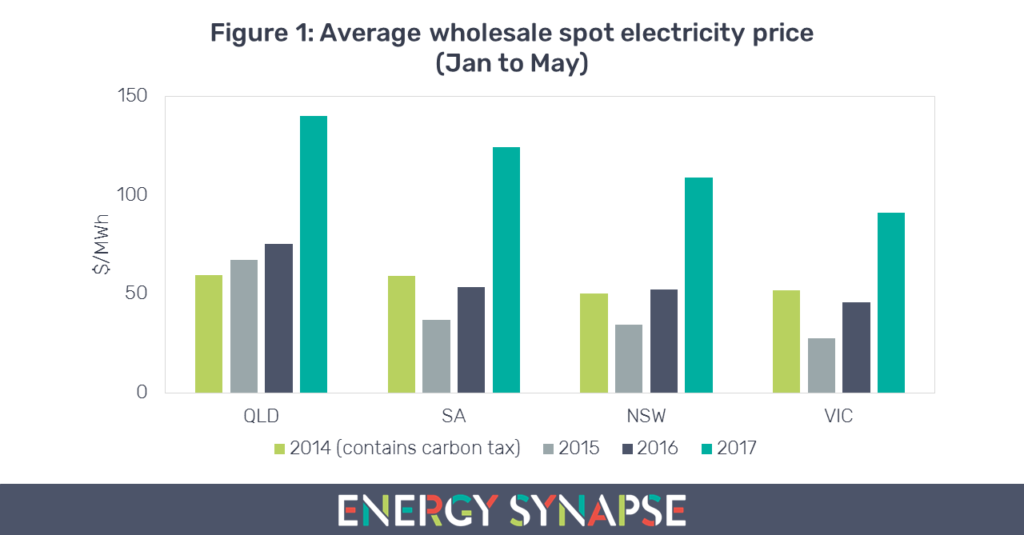 Contracts for electricity to be delivered in 2018 are still trading at high prices despite a range of government interventions being announced. It is worth noting though that QLD had a very sharp downturn in early June (about 13%) following a package of measures announced by the Palaszczuk Government. However, QLD Cal-18s were still trading 27% higher on 20 June 2017 compared to the same time last year (see Figure 2). VIC Cal-18s had the highest price increase over the past year (118%) mainly due to the closure of Hazelwood Power Station.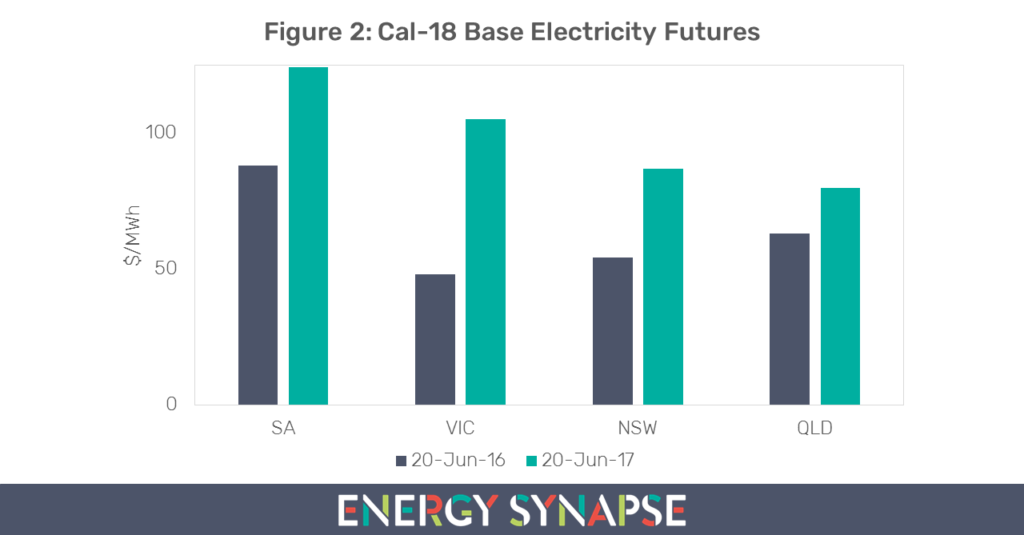 Buying renewable energy would mean locking in a long-term fixed price for the generated power, and hence limiting exposure to market movements.
2. Cost of renewable energy has dropped significantly
According to Bloomberg New Energy Finance, the cost of solar PV modules has fallen 90% since 2009, and onshore wind by 50%. Renewable energy has now become the cheapest form of new build generation.
In May 2017, Origin Energy signed a 530 MW wind PPA for less than $60/MWh. That price includes both the energy and the LGCs. Furthermore, we have seen solar PV contracts signed in Mexico, for as little as US $26.99/MWh, giving a taste of things to come globally.
The combination of points 1 and 2 have turned renewable energy from an expensive nice to have, to a no brainer, for the large C&I market. For the first time, renewable energy is cheaper than a traditional electricity contract for large energy users.
3. Renewable energy provides a hedge against carbon policy
If there is one lesson large energy users should have learned from the carbon tax, it was the danger of failing to manage climate policy risks in their energy portfolios. Companies with no renewable energy in their portfolios (nearly everyone at the time) were left completely exposed to the price increases when the carbon tax was introduced in July 2012. Some large industrials saw their electricity prices rise by up to 40%. Due to the Government's rhetoric that price impacts would be negligible, many businesses struggled to pass on the full cost of carbon to their customers and hence were forced to absorb large portions of the cost increase.
We believe that the risk is high that Australia will once again adopt a carbon pricing mechanism. The Finkel Review has recommended a Clean Energy Target. The Government is now also playing with the idea of reverse auctions. Whatever the mechanism, including renewable energy in your portfolio is likely to make it a lot more resilient to future carbon related price risks.
4. No need for upfront capital
Unlike generators, retailers, and network providers, electricity is not the core business for the vast majority of energy users. Most energy users produce unrelated goods and services, and rely on electricity as an input to their operation. Consequently, it is often very difficult for companies to obtain CAPEX approval for non-core business activities such as electricity generation. However, for several years now there have been alternative models such as PPAs that give energy users access to renewable energy with zero upfront capital. This has eliminated one of the biggest obstacles for business.
Please feel free to get in touch if you are interested in exploring renewable energy options for your business. At Energy Synapse, we are experts in renewable energy technology and commercial agreements. We specialise in providing innovative and completely independent advice to help you significantly reduce your electricity cost.
Author: Marija Petkovic, Founder & Managing Director of Energy Synapse
Follow Marija on LinkedIn | Twitter