Capacity Investment Scheme (CIS) Consultation Paper – high level summary
The Australian Government has released a public consultation paper seeking feedback on the design of the Capacity Investment Scheme (CIS). Responses are due by 31 August 2023.
We have put together a high-level summary of key elements of the scheme in this article.
Objective of the Capacity Investment Scheme
The CIS aims to encourage new investment in clean dispatchable capacity, support reliability, and reduce the risk of price shocks in Australia's rapidly changing energy market.
The CIS expects to bring forward at least $10 billion of new investment and 6 GW of clean dispatchable capacity by 2030.
How the CIS works
There will be a series of competitive tenders seeking bids for clean generation and storage projects to fill expected reliability gaps.
Projects that are successful in the tender process will be offered long-term Commonwealth underwriting agreements for an agreed revenue "floor" and "ceiling" (see Figure). If the project earns more revenue than the "net revenue ceiling", the owner will pay the Commonwealth an agreed percentage of revenue above the revenue ceiling. In contrast, if the project earns less revenue than the "net revenue floor", the Commonwealth will pay the project owner an agreed percentage of the shortfall below the revenue floor (but not below zero).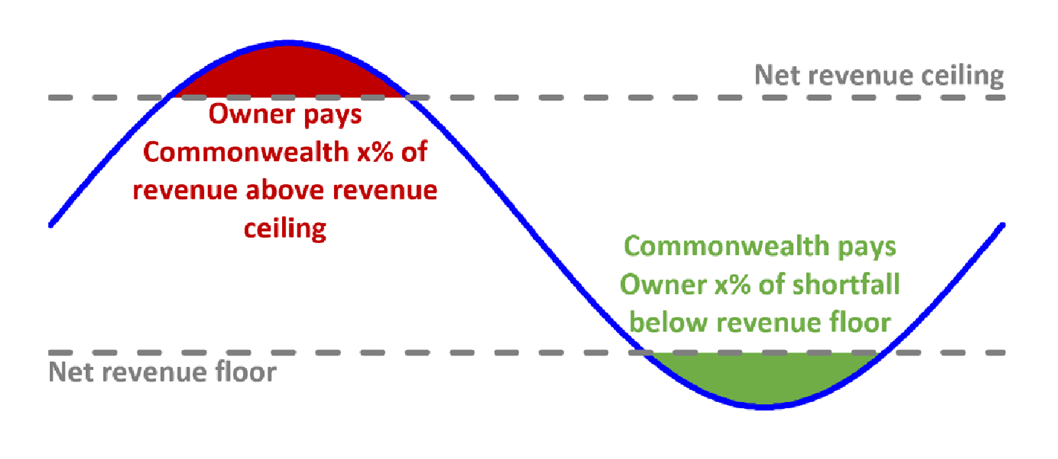 This design is intended to increase investor certainty, while still giving project proponents flexibility in how they participate in wholesale electricity and contract markets.
Geographic coverage
The Capacity Investment Scheme is expected to be a national scheme covering the National Electricity Market (NEM) on Australia's eastern seaboard as well as Western Australia's Wholesale Electricity Market (WEM). The Australian Government is also exploring options to support capacity in the Darwin-Katherine Electricity System (DKIS).
Eligible projects
It is expected that projects will need to meet the following eligibility criteria:
– Produce zero Scope 1 emissions. Coal and gas projects (including blended fuel projects) will not be eligible. Note that storage projects that charge from the grid are considered to have zero scope 1 emissions and thus are eligible.
– Have a capacity of at least 30 MW (this requirement might be reduced in the WEM).
– Demonstrate that the project can contribute to system reliability. Standalone wind or solar PV projects will not be eligible due to their variability. However, VRE + storage hybrids are expected to be eligible. Demand response projects may also be eligible if they are capable of reducing demand for at least four hours. Storage projects are expected to have flexibility in how they bid in the CIS. For example, a 100 MW/200 MWh battery may bid as a 2-hour 100 MW dispatchable asset or a 4-hour 50 MW dispatchable asset.
– Be registered with AEMO and intend to participate in the central dispatch process.
– Use established/proven technology.
– Achieve financial close from 8 December 2022 onwards. Projects that have achieved financial close before 8 December 2022 will be not be eligible.
– Projects that are already, or will be, in receipt of revenue support from Commonwealth or state and territory governments will not be eligible for the CIS tenders. LGCs, ARENA grants, CEFC are all ok and will not impact eligibility.
– Projects can be privately or publicly owned.
Expected timeframes for CIS tenders
Tenders for the Capacity Investment Scheme are expected to be progressively rolled out from 2023 through to 2027 to meet reliability needs between FY2026 and FY2030. The reliability targets are expected to be expressed in terms of capacity (MW), medium storage (4-hour) equivalents.
The first phase of the CIS is expected to involve:
– Partnership with NSW Electricity Infrastructure Roadmap announced on 29 June 2023. This will involve Commonwealth support for up to 550 MW of firmed capacity, in addition to 380 MW already committed by NSW.
– South Australia / Victoria tender. Tender arrangements will be announced by October 2023.
Further details on the national roll out of the CIS are expected to be outlined by the end of 2023.
Feel free to contact us if you have any further questions.